Despite the Wiko U Feel Lite being a mid-range phone, it is almost on par with those above said range.With a fingerprint scanner that is as receptive as Garfield to lasagna, you can unlock your phone just by holding it.
Fingerprint Scanner.
The fingerprint scanner of Wiko U Feel Lite is one of the best. It doesn't even take half of a second after your finger touches the sensor before the phone is unlocked. It really makes unlocking your phone a lot faster and easier when you don't have to input your password whenever you want to access your phone. However, unlocking your phone isn't the only thing the fingerprint scanner can do. The Wiko UFeel Lite even allows you to activate different functions of your phone with the fingerprint scanner by registering different fingers to different functions. For instance, you can make it so that your thumb would unlock the screen, while your pointer finger would activate the camera. It stores up to 5 fingerprints, so that you can associate up to 5 apps to each different finger (4 if you want to leave one for just phone unlocking).
Design
The design of the phone is made out of a combination of plastic, metal and glass. Its edges are rounded, which makes it rather comfortable to hold on to. At the weight of 147g and with the dimensions of 143.5 x 71.5 x 8.5mm, it's neither too heavy nor too wide for it to fit comfortably in your hand or your pocket. The Wiko U Feel Lite has a screen that spans 5 inches, and has a resolution of 720 x 1280 pixels. It has a IPS LCD capacitive touchscreen, which features 16M colors. The screen is high quality, and can be great to watch videos and play games on. The phone comes in multiple amazing colors to suit its owner's personality – Lime, Slate, Chocolate, and Rose Gold.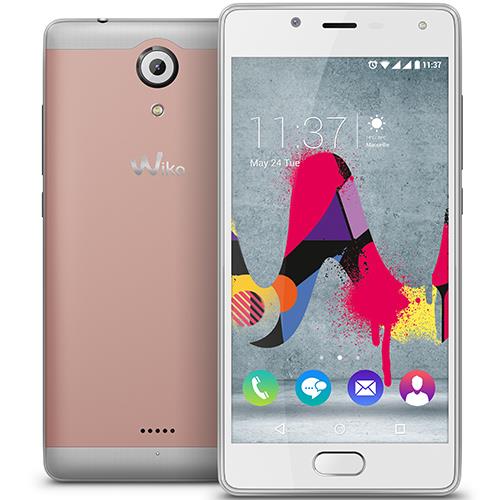 Performance
The phone runs on Android 6.0.1 Marshmallow, and has a Quad-core 1.3GHz Cortex-A7 CPU. It runs smoothly and efficiently, and can support most of the games and apps I installed onto it to test it out. It is also able to surf the internet smoothly, be it with a 3G connection or WiFi.
Camera
The camera has an 8MP primary rear camera, while its 5MP front camera.  It has several features and modes – from geo-tagging, touch focus, face detection, panorama as well as HDR. It can also shoot video in 1080p at 30fps. You can also edit your photos after you shoot them – making it perfect for people who love photography and selfies.  For an 8MP camera, the quality of the pictures are pretty good.